Podcast: Play in new window | Download
Subscribe: Apple Podcasts | Google Podcasts | Email | TuneIn | RSS
Colossians 1:9-20 For this reason also, since the day we heard of it, we have not ceased to pray for you and to ask that you may be filled with the knowledge of His will in all spiritual wisdom and understanding, so that you will walk in a manner worthy of the Lord, to please Him in all respects, bearing fruit in every good work and increasing in the knowledge of God; strengthened with all power, according to His glorious might, for the attaining of all steadfastness and patience; joyously giving thanks to the Father, who has qualified us to share in the inheritance of the saints in Light. For He rescued us from the domain of darkness, and transferred us to the kingdom of His beloved Son, in whom we have redemption, the forgiveness of sins. He is the image of the invisible God, the firstborn of all creation. For by Him all things were created, both in the heavens and on earth, visible and invisible, whether thrones or dominions or rulers or authorities–all things have been created through Him and for Him. He is before all things, and in Him all things hold together. He is also head of the body, the church; and He is the beginning, the firstborn from the dead, so that He Himself will come to have first place in everything. For it was the Father's good pleasure for all the fullness to dwell in Him, and through Him to reconcile all things to Himself, having made peace through the blood of His cross; through Him, I say, whether things on earth or things in heaven.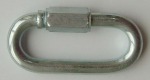 Years ago I discovered an incredibly helpful invention. [Illustrate with two pieces of chain and a coupling link.] The invention is the coupling link. With it, you easily can add a link to a piece of chain. So, with it you can make two broken chains a single chain. The link has an opening that can be opened or closed easily. If it is open, it can easily fit on to a chain. If it is closed, it becomes a strong part of the chain. The link makes what would be impossible easily possible.
This evening I want to begin by reading several scriptures. Though these scriptures come from different contexts and make many points, I want you to notice two things. (1) All of them are in some way about the work of Jesus as he benefits us. (2) All of them state in some way that Jesus is our "link" to God. In Jesus we can be again "connected" to God, and that would be impossible if it were not for Jesus.
Please read with me on the overhead or in your Bible. Notice the "coupling" Jesus makes possible between us and God the Father. The Father can be in Jesus' disciples because Jesus is in those disciples.
Please pay attention to the fact that Jesus allows us to have God the Father in us.

Scriptures:

John 1:14-18 And the Word became flesh, and dwelt among us, and we saw His glory, glory as of the only begotten from the Father, full of grace and truth. John testified about Him and cried out, saying, "This was He of whom I said, 'He who comes after me has a higher rank than I, for He existed before me.'" For of His fullness we have all received, and grace upon grace. For the Law was given through Moses; grace and truth were realized through Jesus Christ. No one has seen God at any time; the only begotten God who is in the bosom of the Father, He has explained Him.
John 3:16-21 "For God so loved the world, that He gave His only begotten Son, that whoever believes in Him shall not perish, but have eternal life. For God did not send the Son into the world to judge the world, but that the world might be saved through Him. He who believes in Him is not judged; he who does not believe has been judged already, because he has not believed in the name of the only begotten Son of God. This is the judgment, that the Light has come into the world, and men loved the darkness rather than the Light, for their deeds were evil. For everyone who does evil hates the Light, and does not come to the Light for fear that his deeds will be exposed. But he who practices the truth comes to the Light, so that his deeds may be manifested as having been wrought in God."
John 10:34-38 Jesus answered them, "Has it not been written in your Law, 'I said, you are gods'? If he called them gods, to whom the word of God came (and the Scripture cannot be broken), do you say of Him, whom the Father sanctified and sent into the world, 'You are blaspheming,' because I said, 'I am the Son of God'? If I do not do the works of My Father, do not believe Me; but if I do them, though you do not believe Me, believe the works, so that you may know and understand that the Father is in Me, and I in the Father."
John 12:44-50 And Jesus cried out and said, "He who believes in Me, does not believe in Me but in Him who sent Me. He who sees Me sees the One who sent Me. I have come as Light into the world, so that everyone who believes in Me will not remain in darkness. If anyone hears My sayings and does not keep them, I do not judge him; for I did not come to judge the world, but to save the world. He who rejects Me and does not receive My sayings, has one who judges him; the word I spoke is what will judge him at the last day. For I did not speak on My own initiative, but the Father Himself who sent Me has given Me a commandment as to what to say and what to speak. I know that His commandment is eternal life; therefore the things I speak, I speak just as the Father has told Me."
John 14:9-21 Jesus said to him, "Have I been so long with you, and yet you have not come to know Me, Philip? He who has seen Me has seen the Father; how can you say, 'Show us the Father'? Do you not believe that I am in the Father, and the Father is in Me? The words that I say to you I do not speak on My own initiative, but the Father abiding in Me does His works. Believe Me that I am in the Father and the Father is in Me; otherwise believe because of the works themselves. Truly, truly, I say to you, he who believes in Me, the works that I do, he will do also; and greater works than these he will do; because I go to the Father. Whatever you ask in My name, that will I do, so that the Father may be glorified in the Son. If you ask Me anything in My name, I will do it. If you love Me, you will keep My commandments. I will ask the Father, and He will give you another Helper, that He may be with you forever; that is the Spirit of truth, whom the world cannot receive, because it does not see Him or know Him, but you know Him because He abides with you and will be in you. I will not leave you as orphans; I will come to you. After a little while the world will no longer see Me, but you will see Me; because I live, you will live also. In that day you will know that I am in My Father, and you in Me, and I in you. He who has My commandments and keeps them is the one who loves Me; and he who loves Me will be loved by My Father, and I will love him and will disclose Myself to him."
John 16:25-28 "These things I have spoken to you in figurative language; an hour is coming when I will no longer speak to you in figurative language, but will tell you plainly of the Father. In that day you will ask in My name, and I do not say to you that I will request of the Father on your behalf; for the Father Himself loves you, because you have loved Me and have believed that I came forth from the Father. I came forth from the Father and have come into the world; I am leaving the world again and going to the Father."
John 17:1-5 Jesus spoke these things; and lifting up His eyes to heaven, He said, "Father, the hour has come; glorify Your Son, that the Son may glorify You, even as You gave Him authority over all flesh, that to all whom You have given Him, He may give eternal life. This is eternal life, that they may know You, the only true God, and Jesus Christ whom You have sent. I glorified You on the earth, having accomplished the work which You have given Me to do. Now, Father, glorify Me together with Yourself, with the glory which I had with You before the world was."
John 17:20-26 "I do not ask on behalf of these alone, but for those also who believe in Me through their word; that they may all be one; even as You, Father, are in Me and I in You, that they also may be in Us, so that the world may believe that You sent Me. The glory which You have given Me I have given to them, that they may be one, just as We are one; I in them and You in Me, that they may be perfected in unity, so that the world may know that You sent Me, and loved them, even as You have loved Me. Father, I desire that they also, whom You have given Me, be with Me where I am, so that they may see My glory which You have given Me, for You loved Me before the foundation of the world. O righteous Father, although the world has not known You, yet I have known You; and these have known that You sent Me; and I have made Your name known to them, and will make it known, so that the love with which You loved Me may be in them, and I in them."
Hebrews 1:1-4 God, after He spoke long ago to the fathers in the prophets in many portions and in many ways, in these last days has spoken to us in His Son, whom He appointed heir of all things, through whom also He made the world. And He is the radiance of His glory and the exact representation of His nature, and upholds all things by the word of His power. When He had made purification of sins, He sat down at the right hand of the Majesty on high, having become as much better than the angels, as He has inherited a more excellent name than they.
Luke 9:23-26 And He was saying to them all, "If anyone wishes to come after Me, he must deny himself, and take up his cross daily and follow Me. For whoever wishes to save his life will lose it, but whoever loses his life for My sake, he is the one who will save it. For what is a man profited if he gains the whole world, and loses or forfeits himself? For whoever is ashamed of Me and My words, the Son of Man will be ashamed of him when He comes in His glory, and the glory of the Father and of the holy angels."
Luke 10:21-23 At that very time He rejoiced greatly in the Holy Spirit, and said, "I praise You, O Father, Lord of heaven and earth, that You have hidden these things from the wise and intelligent and have revealed them to infants. Yes, Father, for this way was well-pleasing in Your sight. All things have been handed over to Me by My Father, and no one knows who the Son is except the Father, and who the Father is except the Son, and anyone to whom the Son wills to reveal Him." Turning to the disciples, He said privately,

"Blessed are the eyes which see the things you see."

Mark 8:34-38 And He summoned the crowd with His disciples, and said to them, "If anyone wishes to come after Me, he must deny himself, and take up his cross and follow Me. For whoever wishes to save his life will lose it, but whoever loses his life for My sake and the gospel's will save it. For what does it profit a man to gain the whole world, and forfeit his soul? For what will a man give in exchange for his soul? For whoever is ashamed of Me and My words in this adulterous and sinful generation, the Son of Man will also be ashamed of him when He comes in the glory of His Father with the holy angels."
Matthew 10:32,33 "Therefore everyone who confesses Me before men, I will also confess him before My Father who is in heaven. But whoever denies Me before men, I will also deny him before My Father who is in heaven."
Matthew 10:25-30 "It is enough for the disciple that he become like his teacher, and the slave like his master. If they have called the head of the house Beelzebul, how much more will they malign the members of his household! Therefore do not fear them, for there is nothing concealed that will not be revealed, or hidden that will not be known. What I tell you in the darkness, speak in the light; and what you hear whispered in your ear, proclaim upon the housetops. Do not fear those who kill the body but are unable to kill the soul; but rather fear Him who is able to destroy both soul and body in hell. Are not two sparrows sold for a cent? And yet not one of them will fall to the ground apart from your Father. But the very hairs of your head are all numbered."

I know we just read through these, but I hope you saw something emphasized repeatedly in these readings.

In some way, these readings each focus on three parties: we humans, Jesus Christ, and God the Father.
There was a repeated emphasis on this fact: God the Father dwelled in Jesus, and Jesus can dwell in us.

Therefore we can have God in us because Jesus is in us.
It is what God did in Jesus that makes it possible for God to live in us!

Let me seek to illustrate the problem and the solution in this way.

The problem:

God is absolute holiness and has no association with anything that has evil in it.
Everyone of us has evil in us.
Thus the problem is how can the holy God have association with people who have evil in them?
It is easy for us to respond, "God can have association with us if we are forgiven," but that does not solve our problem because we cannot forgive ourselves.

The solution:

God made it possible for us to have association with Him because of what God did through Jesus' death and resurrection.
God the Father can forgive us because Jesus atoned for us–he paid the full price for our evil in his total innocence.
Thus Jesus becomes the link that makes it possible for unholy us to associate with the holy God.
None of us associate with God because we are worthy. All of us associate with God because we are forgiven. We do not create our forgiveness. God does through what He did in Jesus' death and resurrection.
David Chadwell